Branding Design: 7 Important Reasons Why you need it as a Blogger
I'm a blogger, I have a small business, do I need branding design? Really? …Yup! When it comes to blogging and small business, the struggle is real. Oh my! Do I still struggle.
Things used to be so easy a few years ago when we could blog for the sake of just telling our stories and it would reach a lot of people. But now, there's a brutal competition and an oversaturated content atmosphere which forces us to be more and more competitive each day no matter what niche we are in.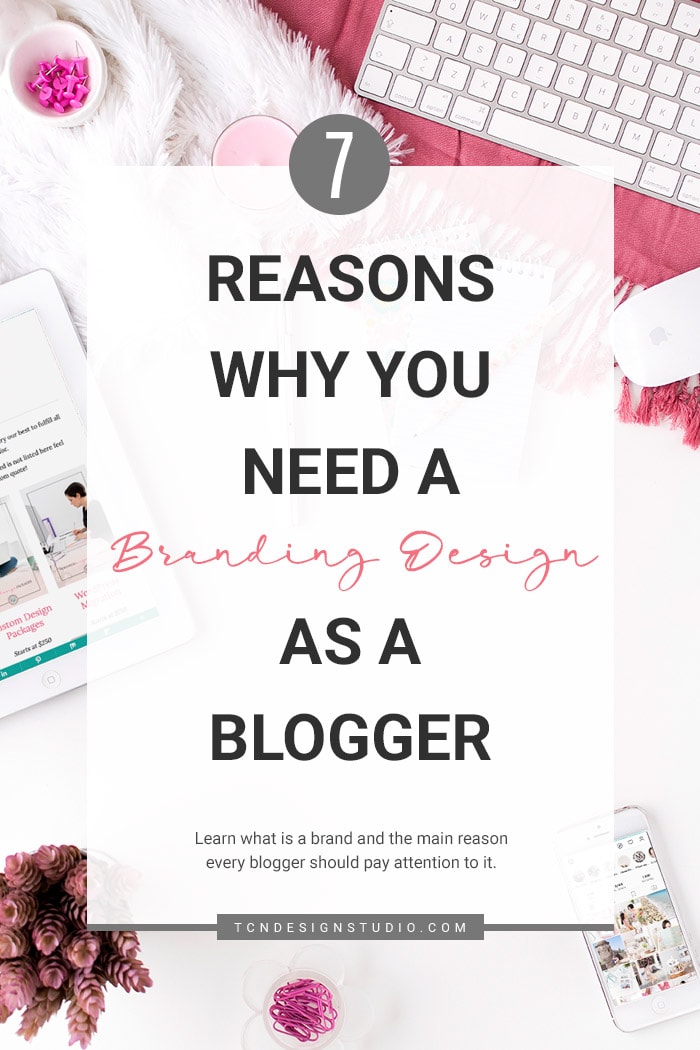 7 Reasons Why you need a Branding Design as a Blogger
If you have started or are thinking about creating a successful blog for personal or business reasons, you probably should know that looks DO count.
Many bloggers when they are starting make the mistake of thinking that a logo or the overall look is not so important but the content, after all, readers are supposedly reading your blog for the words, not the way it looks.
This might be true to some extent. But I tend to disagree. The fact is that people will not take you or your words seriously if your blog looks messy, overwhelming or confusing. I'm the first one that runs away as soon as I land on a website that is oversaturated with different elements and overwhelming colors.
If you truly want to have a successful blog and business you have to have it all. You must have interesting and useful content as well as a great overall design and that includes a personal brand design.
Now, I've got many times people saying brand and logo are the same thing. I can't even count the times people have asked: "isn't logo a brand?". People tend to confuse those two concepts and BRAND AND LOGO ARE NOT THE SAME.
So, What is Brand and what is a Logo?
A Logo is a graphic symbol that brings a visual recognition and representation to your business and brand. In some cases, the logo could be the most important element of branding, especially when it is essentially the face of your blog or business but it's still a part of your brand.
Branding/brand is way more than just a symbol, it's an experience. It's a way more complex concept. It may contain your business's story, values, vision, and even goals. It's the whole package. It's the consistency of your colors, fonts, and symbols throughout your whole business.
The visual side of branding conveyed with all of the non-visual components, it's what makes your customers understand your vision and see how you can help them.
Your branding is in the core, how you tell your story to your audience to make them feel and believe certain truths about your business. To make them believe in YOU.
Why you need a Branding Design as a Blogger?
So, now you probably have a pretty good idea of what branding actually. it's time to dive in into deeper waters.
Let's learn why it's so important for your blog or small business to have a consistent branding design. I have come up with these 7 reasons why you need to start branding your business from day one.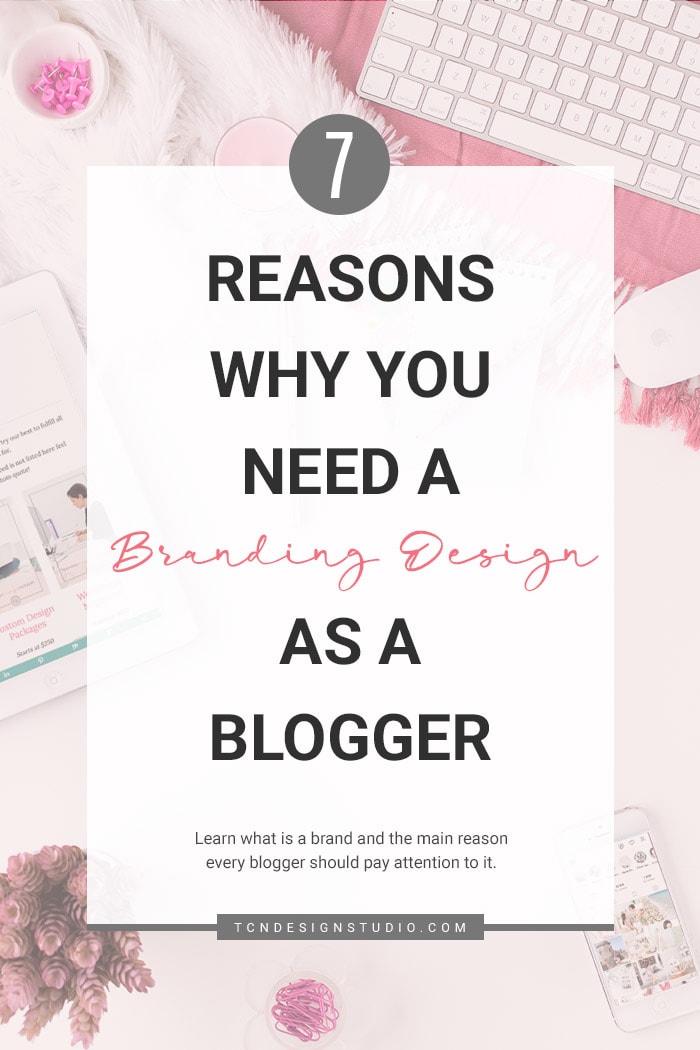 #1 It shows Professionalism.
Let's face it, between a store that is messy, with bad hand-writing name hanging in the entrance that sells bread and a pretty, organized, bright, well design bakery, where would you enter?
Everything comes in through our eyes and an ugly, disorganized and improvised environment does not give a professional look. That includes websites and any kind of business.
#2 It's the First Thing People See.
Often you have less than a second to make a first impression and few more to grab your prospects' attention. You and your business have a story behind your brand but little time to tell it. So, your branding should be clear enough telling who you are and what's your story so it will quickly attract your audiences' interest.
A poorly designed logo, website, product presentation or any other marketing tools will cast an unprofessional impression on your business, which can drive people away very, very quickly.
#3 It Promotes Recognition.
You want people to remember you. But in a very good way. So much that whenever they see something similar or pieces of your brand, they will remember your brand.
A good and solid brand design should be able to catch your prospects' attention and keep them interested despite all the surrounding bloat of competing messages. A good design helps you reach your targeted audience in a memorable way and will help you to get noticed.
#4 It Creates Trust.
A professional and well-planned branding design will help you build trust with your audience, potential clients and costumers.
Let's be honest, you would be more likely to believe in the content or do business with someone that has taken the time to polish and establish a professional brand.
When you have your brand identity created, your audience can see that you have invested in your branding so, your business is important to you.
Having a proper and solid branding design gives the impression of being an expert in your niche or industry. Makes people feel as they can trust you, your content, the product, and services you offer because of the way you handle your business.
#5 It Makes you Competitive.
A strong and solid branding increases the value of your business because your audience is more likely to be attracted to you and what you stand for. You will give your business it's own voice and personality.
When you create a brand knowing exactly what your audience is, you know how and who to talk to, how you can solve their problems and how to make them feel cared for. This adds value to your business and makes you stand out from the competition in your niche and market.
#6 It Connects Emotionally with your Audience.
Just having a pretty logo at the top of your website or on your business cards isn't enough to talk to your target audience and attract them to trust you. You need to give them more and that's where your branding design comes in play.
What you say with words should be coherent with the colors, fonts choices and anything else you add so it will create some form of emotional response and connection with your audience. You definitely want this to be the right response and a solid connection.
You want them to become so hooked with your content and emotionally invested in your business that they can't help but to buy from you. That's why branding design is so important. The strategy should be well planned, the message very clear and always be super positive.
#7 It Generates Revenue.
If you look professional, have your audience's trust and recognition, and have connected with your audience then you probably are bringing enough traffic to your blog or people are willing to buy your product or services. Either way, you will be generating revenue.
As a blogger or small business owner, you know the power of word of mouth advertising. There's nothing more gratifying than having clients telling friends or family members how totally awesome your content or your business is and how it changed their lives. This will not happen if you have a crappy branding design.
Your BRAND is what sticks in your audience's minds long after they have done business with you or read your content and makes them come back for more.
Wrapping up…
A solid and well-planned Branding design should:
Communicate directly to your target
Generates recognition in your audience's minds through a consistent language (words and images)
Creates a logic hierarchy to tell your story in a clear and authentic way.
It's professionally compelling and aesthetically attractive.
Evokes emotions through your story, images and colors at the same time that guides your audience's eyes where to go first.
Make your audience trust you completely and therefore become a costumer.
So, to make things even clearer, design builds credibility as the brand builds recognition.
How?
Creating a consistent visual language, providing a deep emotional connection and making them feel comfortable.
It's a big mistake to underestimate the importance of a good branding design for any business, even blogs. Nowadays, having a good design is not optional, it's critical you really want to have a successful business and brand.
Making a good design an essential part of your business strategy will pay off and also create a better experience for your users and costumers.
Blogging Articles I find interesting to read from my favorite bloggers:
Thinking about a Branding upgrade?
I can help you, let's Talk!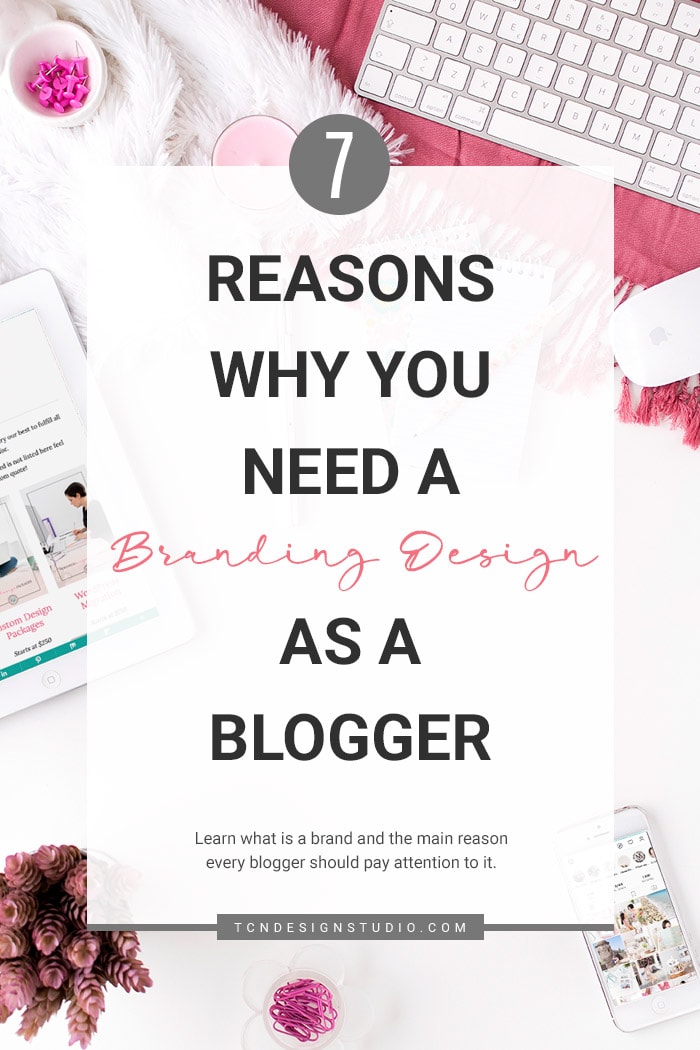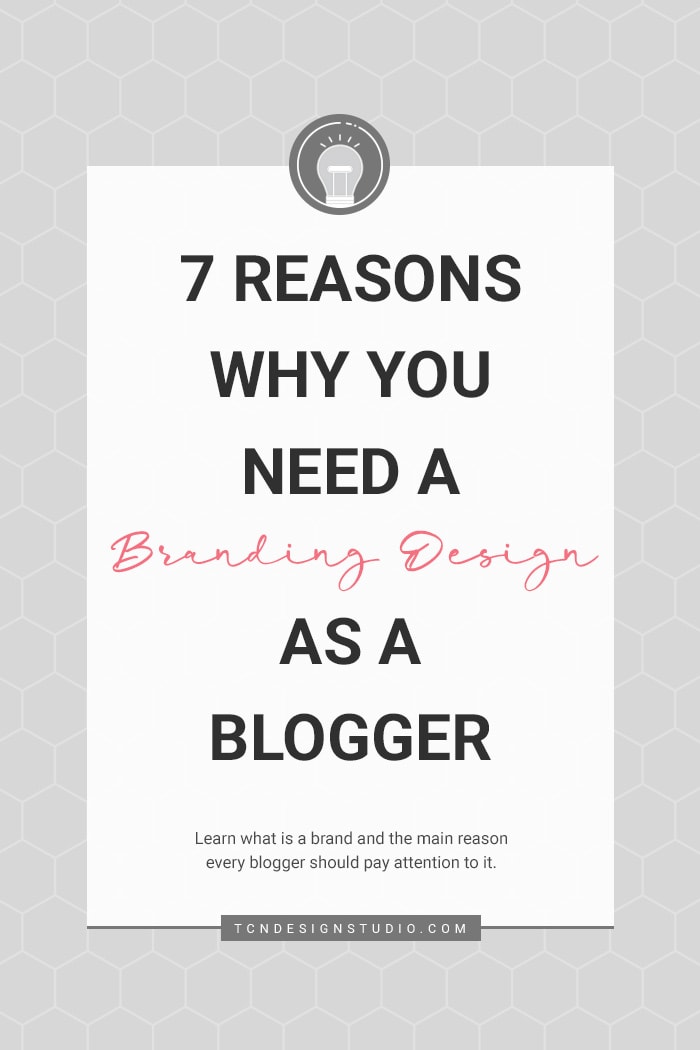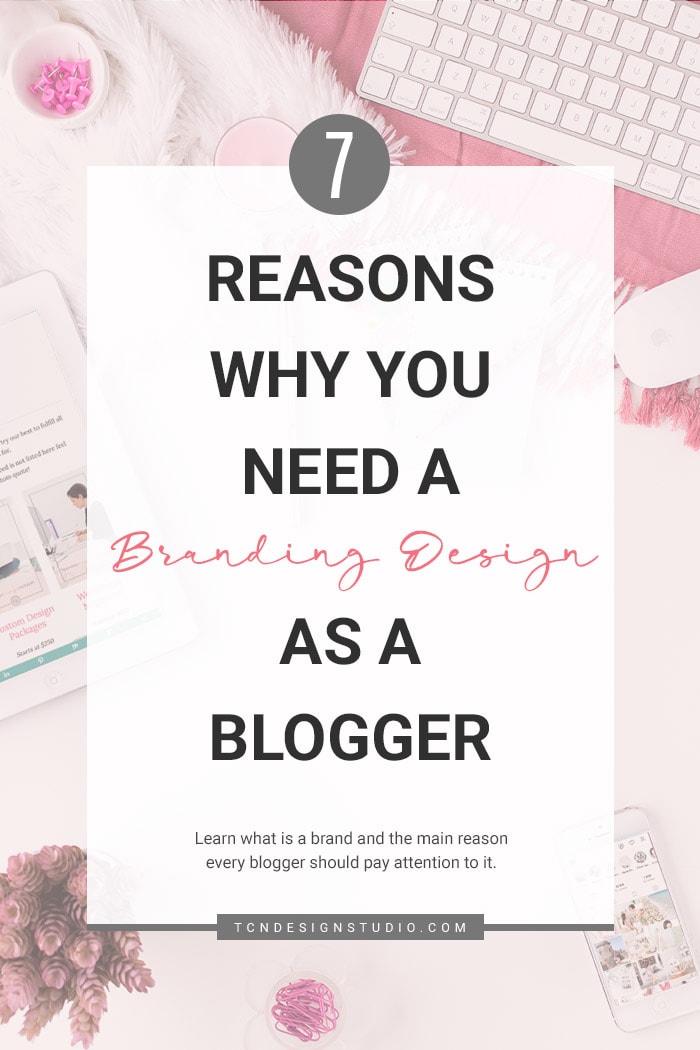 I'm sure you might also love these Blogging 101 Posts too: