Media Kit: How to Create it and Why it's Important
If you are a blogger that takes it seriously or an online business owner looking for ways to connect with brands you definitely need a Media Kit. Learn why you should have one and how to create it.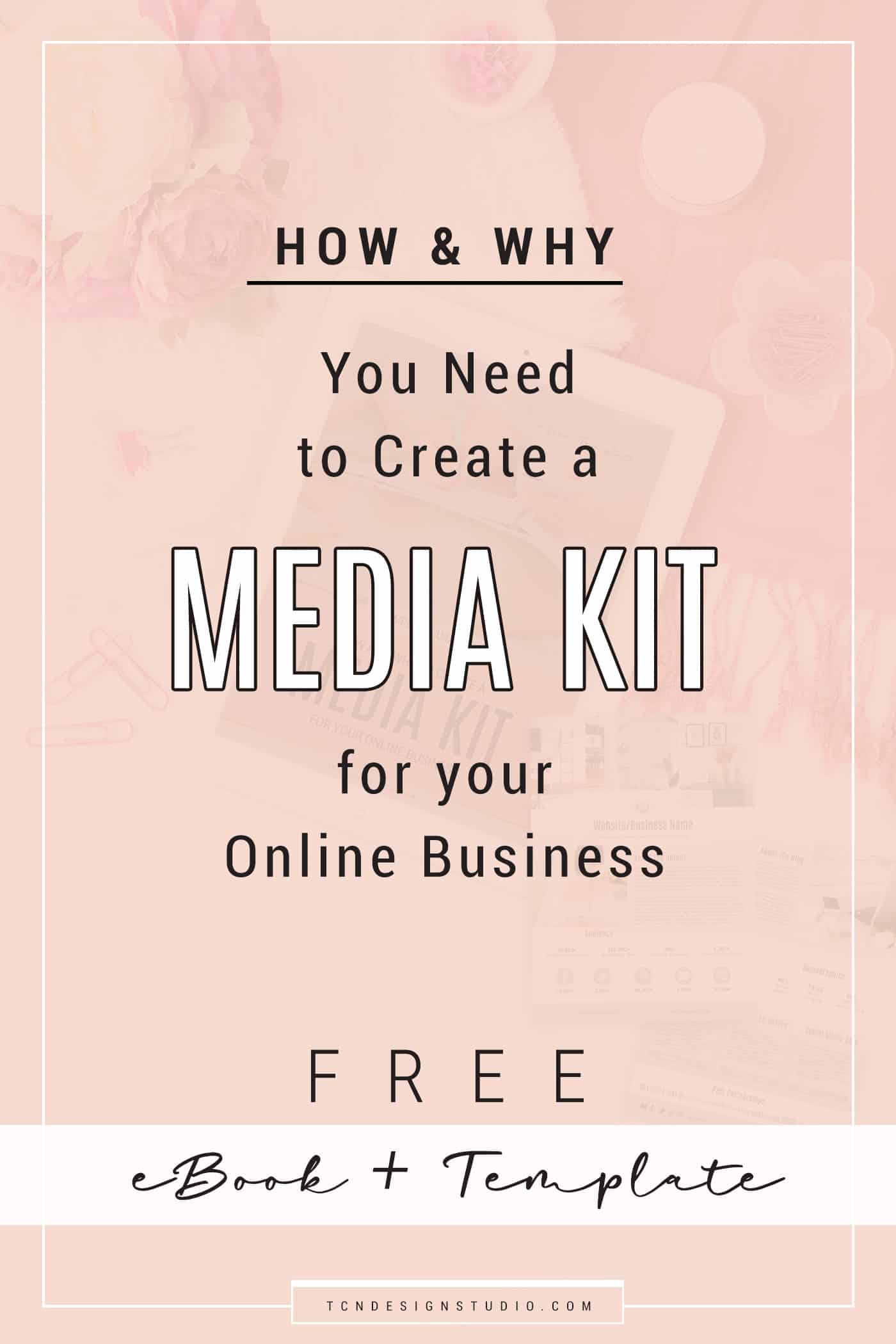 How to Create a Media Kit and Why is Important
Did you know that as a blogger, If you want to be the one who makes money, you should have a media kit?
Well, you should!
Not only is it an easy way to keep records of your growth progress, but it's also an important document to have on hand to send to brands and PR professionals to initiate potential collaborations and sponsorships.
You don't need big numbers to land partnerships. It doesn't matter if you are just starting or an established blogger.
What you need is a professional and clean looking media kit. What you need to have is confidence as you approach brands (and be strategic about the brands you decide to pitch) and you need to know and trust your worth.
I personally have a three-sheeter that includes my stats, my specialties in addition to my sponsorship opportunities.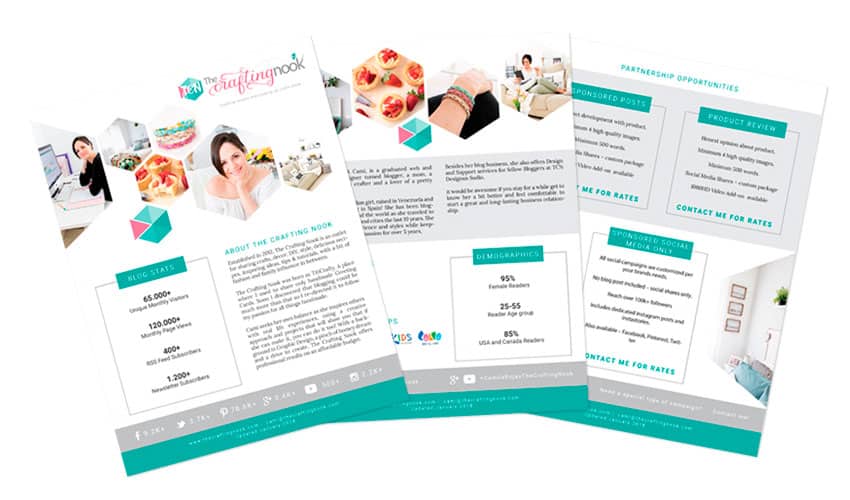 As a blogger and a businesswoman I feel like it's my duty to share it with beloved readers in the name of blogger-to-blogger relationship.
Here's the thing.
As your blog grows, people will start noticing you. And this includes companies and brands with interest in the same niche, target and demographics as you.
Now, did you know that there are companies and brands that love hiring people just to scope out bloggers and influencers in their niche?
All these brands and companies, big and small, are fully aware of the power of blogs and their influence over their audience, that's why they want to work with us bloggers. And as bloggers, we can, and definitely should use the connections, the money, and perhaps build some backlinks ourselves to boost traffic and page ranking.
Now, as far as money is concerned, how much you make depends on a lot of things: how much traffic do you generate? How long have you been blogging for? How engaged your audience is with you and your content? What are your social media stats? And much more. But how does a brand know whether you're a good fit for them or not?
Here enters the media kit!
In this post, I'm going to lay out just how important it is to have a media kit nowadays, as well as, what you should be including in it. If you want to make money (whether it be a little extra cash on the side, or becoming a full- time blogger kind of money), you're going to need a professional-looking media kit.
So what must you include in your media kit for maximum results? Let me walk you through!
But,
What is a Media Kit?
A media kit is a lot like a resume but viewed from all things blog point of view. You don't share your scholar journey or where you have been working for the past years. It's more like your blog's resume. It's where you list how far your blog has come, what kind of influence your blog has and on whom this influence is usually exerted. You let your blog's statistics speak for itself. The social proof is all brands are really interested in.
You want your Media Kit to be impressive, honest, and memorable.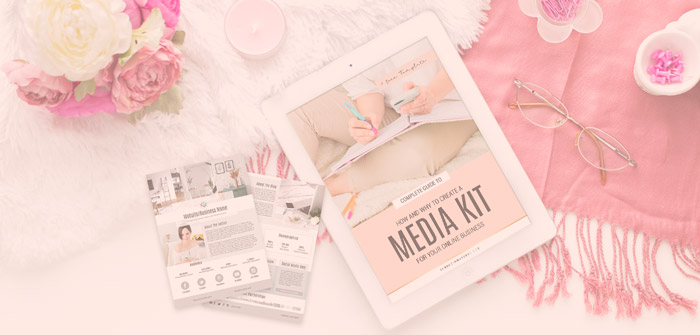 Grab your FREE Media Kit Template + this Whole content in PDF
Click on the button below to have it sent straight to your inbox!
HECK YEAH, SIGN ME UP.
What are Media Kits needed for?
Just to name a few…
Sponsored content creation.
Product and service reviews
Giveaways
Brand Ambassadorship
Influencing for a conference or event
Landing guest posts or interviews on podcasts
The list could go on and on…
What should be included in a Media Kit
For Awesome and maximum results, every Media Kit should include:
Branding:
You definitely want your media kit to match the style of your blog and your business. Be sure to include your logo and use the same colors and fonts to convey consistency otherwise you just look unorganized, and I don't want that for you!
Profile Photo:
You want to show your face to the brands you potentially could be working with. Besides a brand, you are still a human being and your face should always be clear and authentic. Keep it updated & relevant to your brand/blog.
Short Author Bio:
Include 1-3 short sentences about yourself as the author of your blog and leave a link to jump to your About Me page on your blog. It's always helpful to include where you're located.
Blog Overview:
Describe your blog's main topics; What is your blog about? what sets it apart, and your vision. Is there an interesting back story? What are your goals as a blogger and who are you aiming to reach?
It's good to keep this portion to 3-5 sentences that speak mostly to why your audience read your blog and what a brand can expect from you.
Contact Information:
Always include your blog URL and your email address. Make it easy for brands who want to work with you to reach you! If you'd like to include your phone number, you can do that here too.
Site Statistics and Social Engagement:
If a brand is interested in sponsoring a blog post as the main point of collaboration, they will want to see your site statistics.
The most popular and relevant statistics to report on include average Monthly Pageviews and Monthly Unique Visitors. Email subscribers, Instagram followers, Facebook followers, and Pinterest monthly views are just a few of the stats I list on my media kit.
I also include demographic breakdowns (age, gender, location). You should also include your social usernames so that the brands can go and check out your pages.
This is another reason consistency and branding are so important! When brands view all of your different social media accounts, you want them to get the same vibe from all of them and look super professional.
Partnership Opportunities:
Sponsored posts. Social media posts. Brand reviews. Whatever you have to offer, be sure it is clearly stated. A simple list will do, as most brands understand the basics of collaborations. But including a full Collaboration Opportunities section is a great way to expand upon your offerings, talk about special deals you offer, or to include pricing.
It's also a good idea to include a link to your Collaboration Inquiry form, which can also be found directly on a contact page on your site. This gives an easy call to action for the brands, while collecting all of the important information you need to decide if a collaboration opportunity is a good fit and if it will work with your blog.
Brands We Have Worked With:
As you grow and land more and more sponsored posts, create a small section on your media kit that highlights those past partnerships. You could use a list of brands or add their logos to that section.
Awards and Features:
Your successes are so important and rewarding, highlight them! If you have been featured as an up and coming blogger? Has your blog received any sort of awards? If so, don't be shy and list it!
It's important to update your media kit about once a month (I like to do it at the beginning) or when you have a very important or large brand collaboration opportunity.
How about length?
It is important that your media kit is concise and easily digestible. Keep it short and personal. 1-3 visually engaging pages that can be skimmed over by your readers are pretty standard and enough. Remember that only pertinent information that will hook interest belongs here.
Media Kit Design and Layout
Let's make it sparkle
Now that you have all of the absolutely pertinent information in place, it's time to make your media kit sparkle and reflect who you are!
The layout of your media kit is directly correlated to its length. Make sure you don't have huge blocks of text or analytics displayed in a stale or uninviting way.
Your media kit should be an extension of your brand and therefore, should look like it.
If your site is filled with photos and colors, your media kit shouldn't be black and white with boring Times New Roman or Arial font. Pick out your all-time favorite blog post, gather together the best photos you've ever taken, and share awesome testimonials from past clients and/or other respected bloggers you've had the opportunity to work with.
Include gorgeous graphics, splashes of color, and pictures whenever it makes sense! Most importantly, make them remember you.
Language
This is an important aspect in my opinion. The language you choose is your way to show how unique your brand is. I like to call this "Your voice".
Even though this is a professional document, for all intents and purpos- es, it is still about you. So, use your own voice, the same you would on your own site and blog posts.
If your business is bright and playful, try using headlines as a way to showcase your creativity. Always make sure that your personality, beau- ty and brand voice are clear throughout the entire media kit.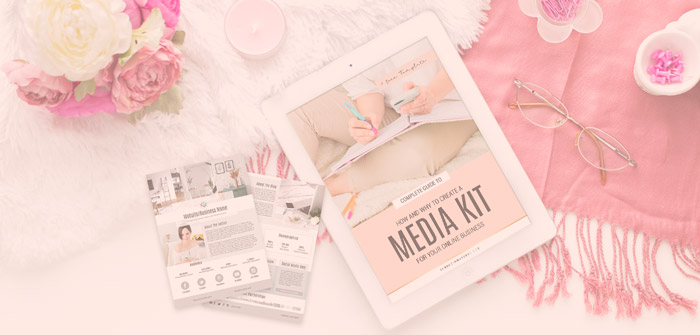 Grab your FREE Media Kit Template + this Whole content in PDF
Click on the button below to have it sent straight to your inbox!
HECK YEAH, SIGN ME UP.
Make it personal
Be personable! You are trying to get brands and companies to choose you so it's important for them to feel like they can relate and connect to you.
I don't recommend being too "salesy," but at the same time, keep it in the back of your mind that you want advertisers to read your bio and think, "hey, this girl and her blog would be a great fit for us!"
Add a photo of yourself that you're proud of—one that radiates your confidence in yourself and your business.
To list your pricing or not to list your pricing, that's the question!
This is a big question I often see being asked by bloggers. I asked that same question myself. Some say you should list your rates. X amount per blog post, X amount per social post and so on… But to be honest, I can't name two partnership opportunities I have had that have been the same. I've asked among fellow bloggers and they can't either.
Each campaign partnership is different and it's always better to be open to brands needs. In some situations, you can agree to do three FB posts, 1 Instagram posts and a blog post with a video. Others want 1 fb post a week, 20 pins over the course of a month, weekly IG stories and a men- tion in the newsletter. Others strictly want a blog post with a product review. All of those should be priced differently and accordingly.
My suggestion is not to list prices. Why? Because once you show them what your pricing is, you throw all room for negotiation out the window.
Instead, you can either have a few pre-planned packages with a call to action "ask for a quote" (and also one that says "need something not listed? contact me") or just find out what the goals of the brand are and determine how you can help reach them.
Early on in the conversation, make sure you mention that compensa- tion will be discussed and set once you have a full plan of action. Once it's time to iron out the details, let them know what your typical rates are. And let them know those rates can be negotiable but also don't give away the whole game.
How much to charge for your services
Knowing how much to charge for a sponsored opportunity is subject to a lot of debate in the blogging world, and I personally feel bloggers don't charge enough when working with brands. I think we constantly underestimate our value and worth (especially when we are newbies) and need to improve in the job of selling ourselves.
Here are a few key things to consider when determining how much to charge as your sponsored blog post rate:
What value do you add?
What are the post requirements?
What materials will you need to buy?
How much research will you need?
How engaged your audience is with your content?
What's your Domain authority?
If you have NO IDEA what you should be charging to write/post/tweet/ whatever, a solid place to start is with socialbluebook.com.
You link your social media and google analytics and they will give you a range for what your posts are worth across the general market. Unfor- tunately, it's not that simple. Even though Social Bluebook is a GREAT place to start, we have found that they vastly undervalue your "suggest- ed pricing".
So, IMO, never charge under $250 no matter how "new" or "small" your blog is. I've heard that most blogs have been able to charge 2X, 3X, even 5X what Social Bluebook suggested.
The best piece of advice I can give you about sponsored content is treating it like a negotiation, never say the first number! Always start by asking them what their budget is before throwing any numbers. Like any negotiation, you never want to show your cards first.
Tools to create a Media Kit
Now that you're ready to put together your media kit, the question is:
How do you put it together?
Well, even though making a Media Kit can be time-consuming, it is important to make it look pretty and professional to make sure that it represents you and your brand.
Media Kits can be expensive if you get one custom-designed, so if you are looking for something pre-made, I have the perfect FREE Media Kit template just for you! You only have to update it to make it unique and let's go!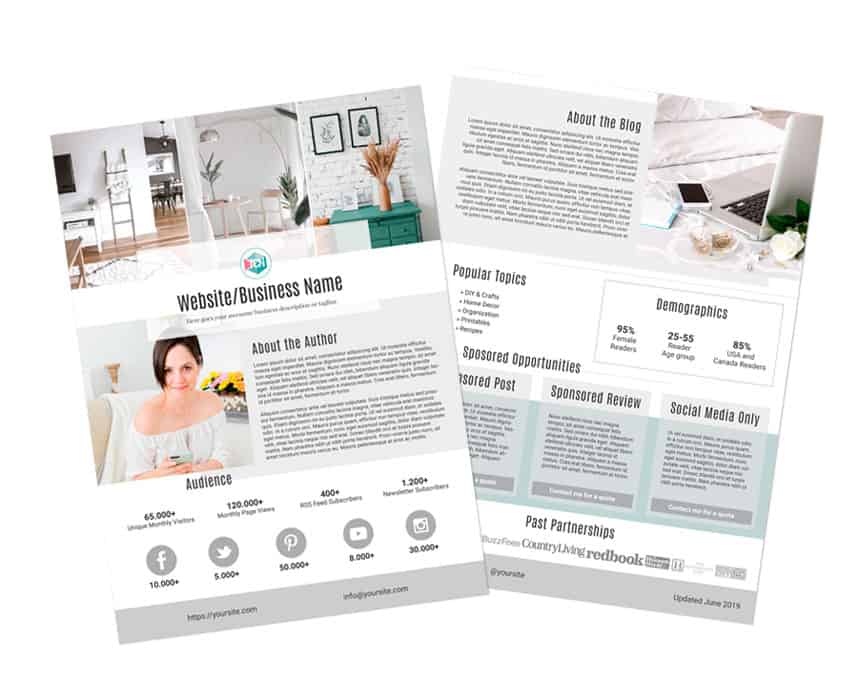 However, you can make your own media kit on anything from Word, PowerPoint, Photoshop, to illustrator or Adobe InDesign. If you don't have the software you can also make a media kit online using free web- sites such as PicMonkey or Canva. These last two are great online tools for creating professional graphics of any kind for your blog.
Canva however, is sophisticated enough to put together a beautiful, stylish, elegant, and functional, media kit, and free too woot! Canva can really be a blogger's best friend when it comes to creating professional graphics.
For around $10-$20, you can download kits from Etsy or Creative Market that make it easy to simply fill in your details and go. The only thing to keep in mind is, if you use a template, chances are other people will be too and there is nothing like showing up to a party in the same dress… LOL. So ALWAYS make sure you turn your template into something unique.
… you can make your own media kit on anything from Word, PowerPoint, Photoshop, Illustrator, Adobe InDesign to online free websites such as PicMonkey or Canva…
I have everything now, then what?
What you do want to do afterwards, is to create something that's easy to view, understand and download so once you've created your master- piece, you'll want to save it in PDF format.
I personally like to use Photoshop. The license is really affordable and imagination is the limit.
And to make your life a whole lot easier and to save you time, I've even created a Media Kit template for you that's specifically suitable for blog- gers and influencers.
If you don't have lots of gorgeous photos I recommend using Styled Stock Photos. You can find from free ones to affordable membership sites to download them.
Here you can find a list of places I use when I need pretty styled photos. These images can help you get a professional look since you will most likely find photos that match your brand's colors.
Never forget to optimize your photos for your Media Kit so it won't be huge and impossible to send over an email.
Always save your Media Kit as PDF so as it can't be altered with. Include a link to download a free PDF reader (like Adobe) in your email for anyone who may not be able to open up PDF's.
How and when to send a Media Kit
Okay, so now you have a good overview of media kits, but when do you send them? How do you use them?
You have 2 main opportunities to send your Media Kit:
When you are pitching a brand. t When brands contact you.
When you pitch a brand it's not a good idea to just mail them and hey here's my Media kit. Always have a plan. Why you want to work with that brand and what do you need to make what?
You need to convince the brand you are a good fit for them with a solid project and how that would benefit them. Then finish your email by telling them that if they are interested in knowing more about you, you can send them your Media Kit. That way you sound professional and don't look desperate.
When a brand or possible client contact you, the first thing you need to know is if they are legit (if the brand is new to you, of course). If you confirm that and it sounds interesting you can reply thanking them for their interest in working with you and that you might be interested, Send them the Media Kit and tell them that you can talk it further.
There's also one third option but it's not a traditional one. I've also used my Media Kit a few times to scare scams off. I get tons of emails of people asking for sponsored guest posts.
I personally never accept content to post on my blog that I'm not sure how legit it is. If I don't know the blogger, I might get in trouble for duplicated content or copyright infringement. I'm very careful about that.
For that purpose, I have a copy of my Media Kit with prices and they are really inflated rates. Since these people are not really interested in business but placing links on my site, they always run away and never email back. Sometimes I don't send my Media Kit but give them a high price so they don't bother again.
Want a Media Kit Template to get you started?
I've got you covered.
By now, you probably have a better understanding of the importance of a Media Kit and you are ready to have your own.
As a content upgrade, I'm offering all this content you just read as a Mini eBook and with it so you can keep it handy. When you download this eBook, you will also get the template for you to play around with it and make it yours and unique.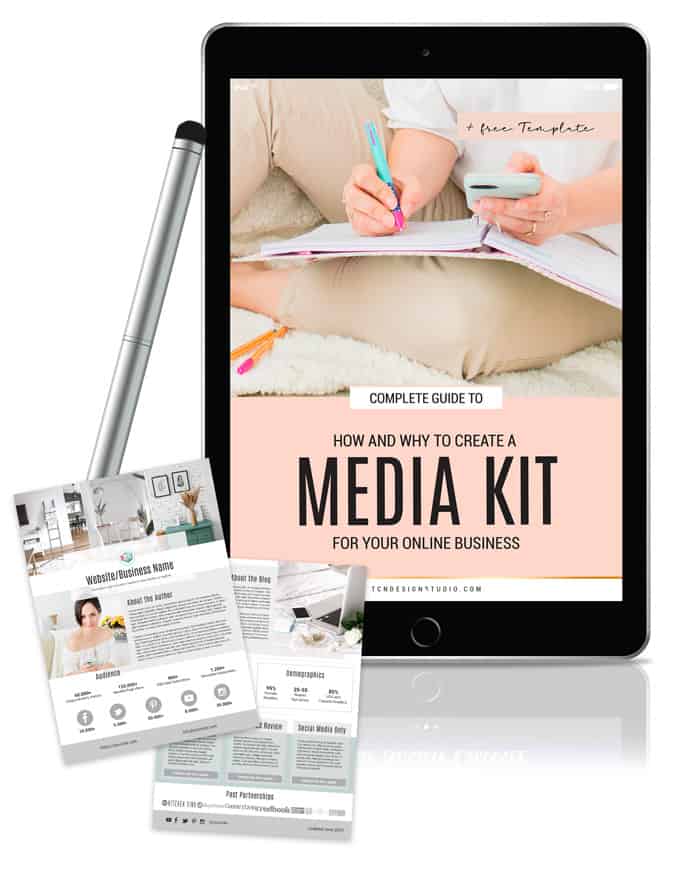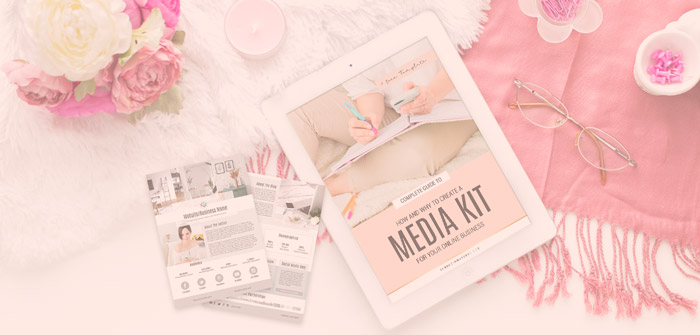 Grab your FREE Media Kit Template + this Whole content in PDF
Click on the button below to have it sent straight to your inbox!
HECK YEAH, SIGN ME UP.
The template is created in Photoshop. You will find a PSD File organized in folders with the name of the section so you can easily replace the information, colors, and photos.
Don't forget to install the fonts attached. They are all Google fonts, so you are free to use them.
Don't have Photoshop?
That's not a problem!
I've also created a Canva Template so anyone can edit this Media Kit. I don't want you to miss this out. I'm really committed to helping you grow your business in any way I can.
At the end of the eBook, you will find a link to a Canva Template. Just click in the link and you will be taken to the Canva Template. Always make a copy for yourself so you don't mess up the original.
Wrapping up
On the brand side, Media Kits are an important tool to help them easily evaluate whether a particular influencer, blogger or content creator is a good fit for the partnership or collaboration.
On the influencer and content creation side, a blogger Media Kit is an important marketing tool to help you stand out and showcase why you're the best fit for the job.
Even though having a blog Media Kit doesn't mean you'll get the job au- tomatically, it definitely increases your chances of being considered and landing brand partnerships and clients.
It's quite a bit of upfront work to put it all together but when it's done… it's done. You just need to keep it updated!
Woohooo!!!!
Well, That's all for now! Hope this content helps you land LOTS of partnerships and grow your business!
Don't forget to snag this blog post as PDF so you can reference back to in any time and of course, get your Pretty Media Kit Template!
Thinking about Branding and Website Design Upgrade?
I can help you, let's Talk!
Need more blogging awesome content like this? Check these out?