8 Tips to Choose the Best WordPress Theme
Whether you are new to WordPress or a veteran user, switching or choosing a new theme is always overwhelming with all the thousands of options out there, both free and paid.
Each theme looks even better than the other. So, How do you choose the best theme for your website?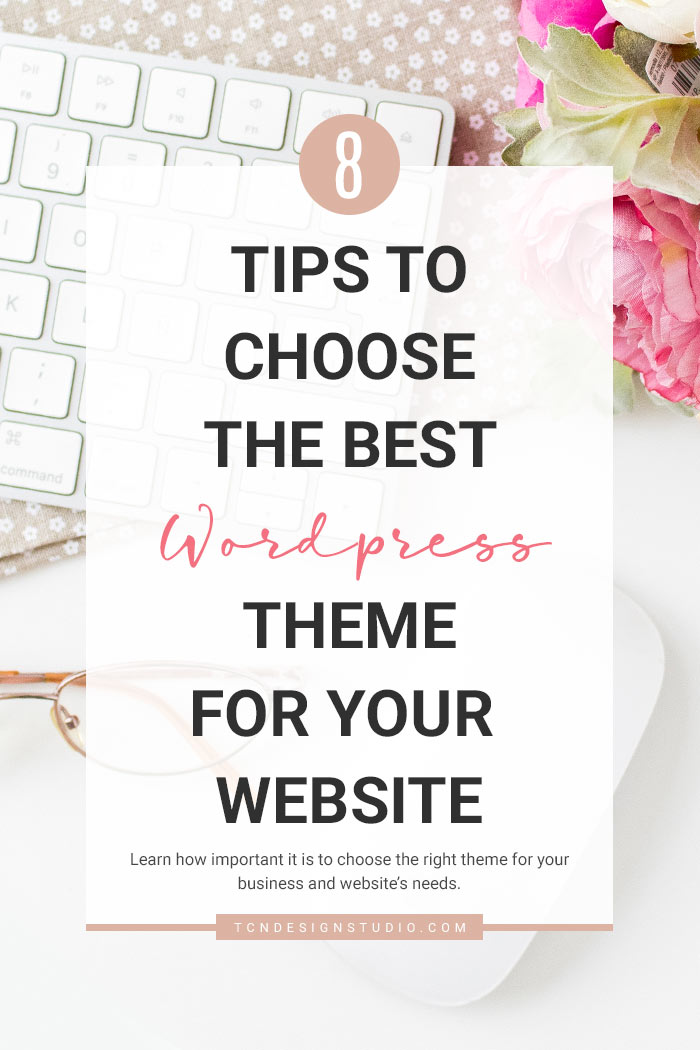 8 Tips to Choose the Best WordPress Theme for your Website
I've seen it so many times and I've been there myself, that a blogger or website owner go on a hunt for a theme and lets appearance drive the search.
That's totally normal, as women, we want a super pretty and lovely theme to represent our business, right?
The problem is that not every theme is coded the same way and not every developer is equally careful with the codes they use. Almost the same rules apply as in my article about Plugins.
You are basically leaving your business in the theme author's hands so you definitely should be very careful when choosing your brand new theme.
In this post, I will share 8 important tips so you can choose the best WordPress theme for your site.
Every theme should have quite a few things to take care of, and sadly a lot of themes miss out on these. This overview should help to keep you out of trouble when you're looking for a new theme.
If you're thinking about switching to a new theme, please give the following points a thought. Keep in mind; your new theme should be:
stable,
responsive,
accessible,
compatible,
customizable,
integrable,
and standards-compliant.
Just in case you are new to the WordPress world let me quickly define a few things:
What's a WordPress Theme?
WordPress theme is a set of additional codes that are installed on the WordPress core on a self-hosted WordPress Install.
Every WordPress site needs a theme in order to function. The theme dictates essentials, such as the layout and looks of a website. It also provides you with a variety of customization options so that you can create your perfect website for your business.
Some themes also come with awesome additional features crafted to support specific niches, such as eCommerce or photography.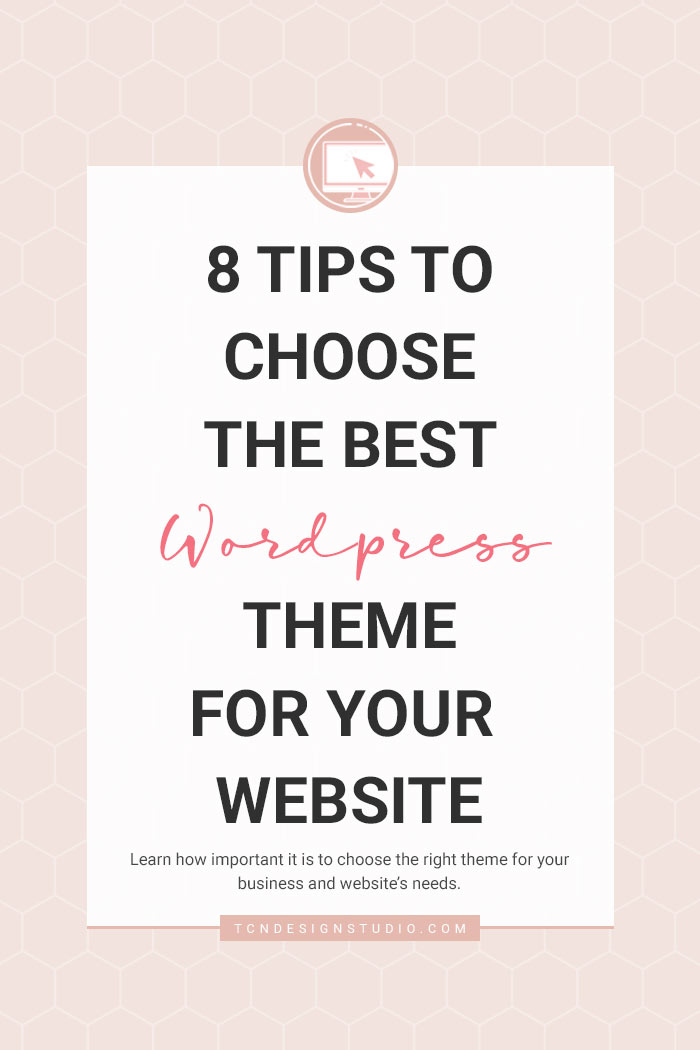 Why You Should Be Careful When Choosing a WordPress Theme?
WordPress runs more than 75 million websites worldwide. It's used to build all kinds of websites. Which is why each theme are created for a different market.
Many WordPress themes come with tons of customization options that If not coded properly, they can make it difficult for you to change themes or use along with other WordPress plugins. You will be locked into that theme or will have to pay a developer to help you switch.
On the other hand, some WordPress themes that look really awesome can actually make your website painfully slow. And let's face it, no one likes slow websites, particularly not Google, especially after the latest algorithm update.
In fewer words, your theme is the face of your website and it plays an important role in how users, as well as search engines, perceive it.
Remember the saying, 'All that glitters is not gold'.? Here applies perfectly.
So what should I use, free or paid WordPress Themes?
There are thousands of free WordPress themes, available both from the WordPress Theme Directory and lots of third-party sources.
If you're on a budget, a free WordPress theme can provide essential functionality and compatibility with key WordPress plugins without additional cost.
But be aware that free themes usually aren't very customizable, and developers likely won't offer upgrades or user support and sometimes are poorly coded.
Premium themes on the other hand, typically are very well coded, do include support and updates, as well as other useful features. The price range go from as little as $25 to more than $100 for a completely unique custom theme.
When it comes to themes most of the times the saying: "You get what you pay for" applies.
This doesn't mean that free or cheap is bad and paid is good. It means that you need to do a little research before making the final decision. And not just go with the prettiest.
In my case, I would go for a paid just because if you are paying you have the right to complain and demand the value they promised. When it's free, they might help but chances are, they will say: "Ma'am it's free stop complaining and find another".
Keeping this in mind, let's learn a few tips you can use to make sure that you select the best theme for your website.
1. Define your needs
Before going out looking for aesthetically beautiful WordPress themes, the first thing you need to do is to define your needs from all the beginning. In order to find out what to search for, decide what the most important aspects of your website will be:
What's my business about?
What type of website do I want?
What is the purpose of my website?
Do I want my website to include a blog?
What kind of customization options are important to me?
Look for a theme option that reflects the essence of your brand, business, and message. Consider colors, layouts, and fonts that reflect your niche and attract your audience.
Some themes might be super eye-catching, but hard to read. Something that particularly happens with dark themes.
Others simply might not convey the message your brand tries to communicate. Make sure your theme complements other aspects of your branding and the tone you want to convey.
2. Simplicity is the key
Many WordPress themes come with lots of colors, complex layouts, flashy animations, etc. Sometimes you may need those things, but in most cases, you probably don't really need all that.
Having a simple and clean WordPress theme instead of a visually complex and crowded one comes with a whole bunch of benefits. On one hand, it makes your website visitors focus on what's important: your content. On the other hand, minimalist themes make people stay on your website longer, click on more links, and more likely to spend more money.
Look for a theme that has a design layout that helps you support your main goal. It needs to look good but without compromising on usability and simplicity.
The sole purpose of web design is to help users find the information they need and to help site owners achieve their goals at the same time.
3. Responsiveness is not Optional Anymore
Did you know that over 80% of web traffic is generated from mobile devices?
Yup!
With today's continuous growth of mobile device usage, having a responsive web design is a must. Fully responsive websites provide a better user experience and responsive design even increases your search engine rankings, along with several other benefits.
Most WordPress themes are already responsive by default. But there are still sources or authors who are selling fixed-width layouts that are not responsive or mobile-friendly at all. Make sure that the theme you are choosing for your website is indeed mobile-friendly.
It's our new reality and if a theme is not responsive, you are out of the game.
If you want to verify if your website is mobile-friendly, use Google's Mobile Friendly Test page. You can test different pages such as your homepage and post and pages.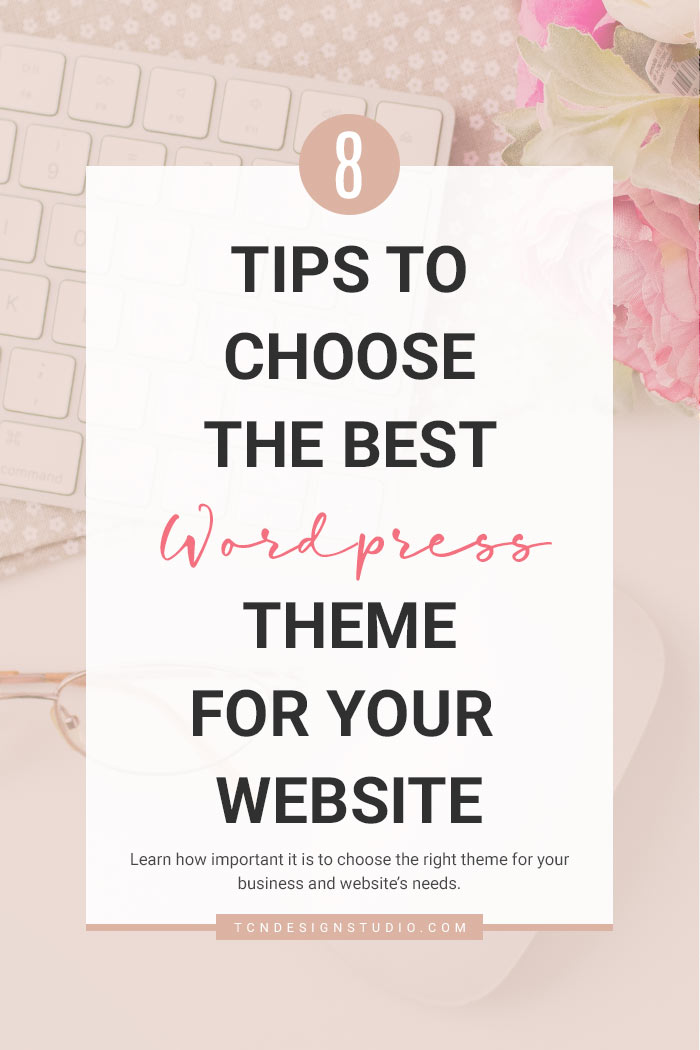 4. Theme compatibility
Believe it or not but as silly as it sounds a theme can cause incompatibilities.
For example, with browsers. Maybe a theme looks awesome on one browser and the have features broken on another. So it's important to make sure the theme you like is compatible with all browsers.
Another compatibility to check is with plugins. Make sure that your WordPress theme supports all popular plugins especially those that are very important for your website like security, SEO, Speed optimization, comment management, and eCommerce. If you are unsure, always ask the theme developer about it.
5. Always aim for trusted resellers or developers.
The neverending discussion on whether a premium theme is better than a free theme is always raging on. Both options have their merits. There are loads of crappy free themes, but there are just as many crappy premium themes, to be honest.
One downside of using a free WordPress theme is that there is no guaranteed support. While some developers provide excellent support for their free themes, many free themes have no support option.
What you should do is find a reseller or developer that you trust. How?
Look for social proof. How many reviews does a theme get?
How many good reviews against bad and are the bads logical?
Is there an active message board?
When did it receive its last update?
Do they resolve complaints?
In general, every theme on WordPress.org underwent scrutiny, so they are safe to use. But that doesn't mean they're awesome, lightweight and free of possible conflicts. Theme resellers offer loads of premium themes in varying degrees of awesomeness.
But ultimately, just because you pay for a theme, doesn't necessarily mean they are better than free themes. Additionally, since you only receive the files when you pay for a theme, there's no way to check the quality upfront. Despite social proof, it's still a leap in the dark.
Always make sure that you select a theme that has good documentation and support option. Most premium WordPress themes offer detailed documentation with 1 year of email-based support.
6. Is the Theme natively SEO Friendly?
Picking an SEO-friendly WordPress theme is crucial if you want to get found online. For WordPress beginners, it can be a real struggle to dive into a theme's code and analyze its SEO friendliness.
Most WordPress themes will claim SEO-friendliness, but it's not necessarily true so make sure to check it. One important aspect is if the theme supports Schema.org structured data. Here again, it's important to aim for trusted resellers or developers so you can rely on their word.
If you're eyeing a free theme, make sure there are no hidden links to the developer's website, as this can hurt your SEO efforts. In general, keep Google's Webmaster Guidelines in mind when hunting for SEO-friendly themes.
7. Using a Theme Framework: parent/child theme.
Parent and child themes are a great combo. Maybe you have heard about Genesis, you know how powerful these are compared to regular themes.
A child theme inherits its functionality from a parent theme. So if you're making changes to your child theme, the parent won't be affected by these and you won't break the parent theme if you make a mistake.
The same happens with updates; if you update your parent theme, it won't wipe the changes you've made to your theme because it's a child and doesn't contain the functionality.
BUT be aware that you need to make sure you need a framework. Almost all WordPress projects will benefit from a theme framework, but it might be overkill if you only need a tiny amount of its functionality and you have all those resources loading on your website.
8. Keep an eye on the bloat.
So many themes are bloated, and this will increase the loading time. If the developer of a specific theme included everything but the dog's toys, you might get an amazing feature-complete theme but an insanely complicated and heavy one as well.
Always try to find a theme that offers everything YOU need, and not everything there is out there. The theme you choose should cover all your needs, be clean and fast.
Places to find WordPress Themes
Bottomline
Choosing a theme shouldn't be pain or a nightmare but it shouldn't be taken lightly either if you want a well-performing website.
A good research will always save you from some bad headaches.
Aim for reputable sources and authors.
Check for reviews.
Search for "best wordpress themes" for your specific niche and look for the common themes that different bloggers recommend.
Consider a custom built theme if you have the budget.
Check for how many installs the theme has.
Check for updates. When was last updated and if it's compatible with your WordPress version.
Check for compatibilities.
Make sure it's responsive and mobile friendly.
Make sure it's natively SEO friendly.
Test, test, test… If you have a staging site, it's the best way to test themes.
Need help finding, installing and optimizing your WP Theme?
I can help you, let's Talk!
If you found this content useful, don't forget to PIN and share it with friends!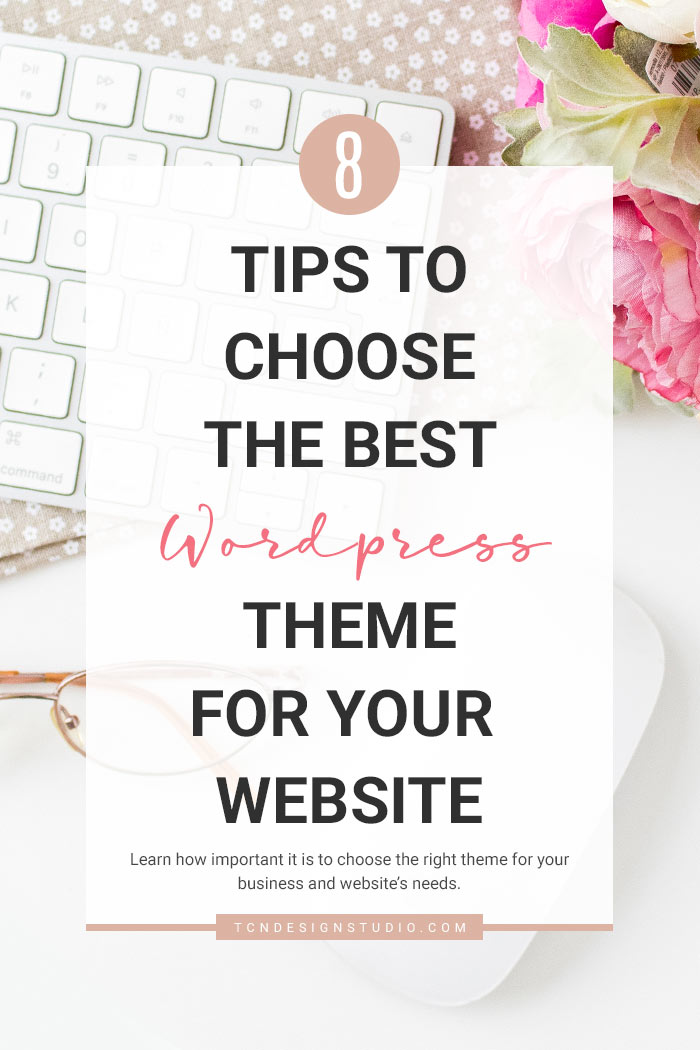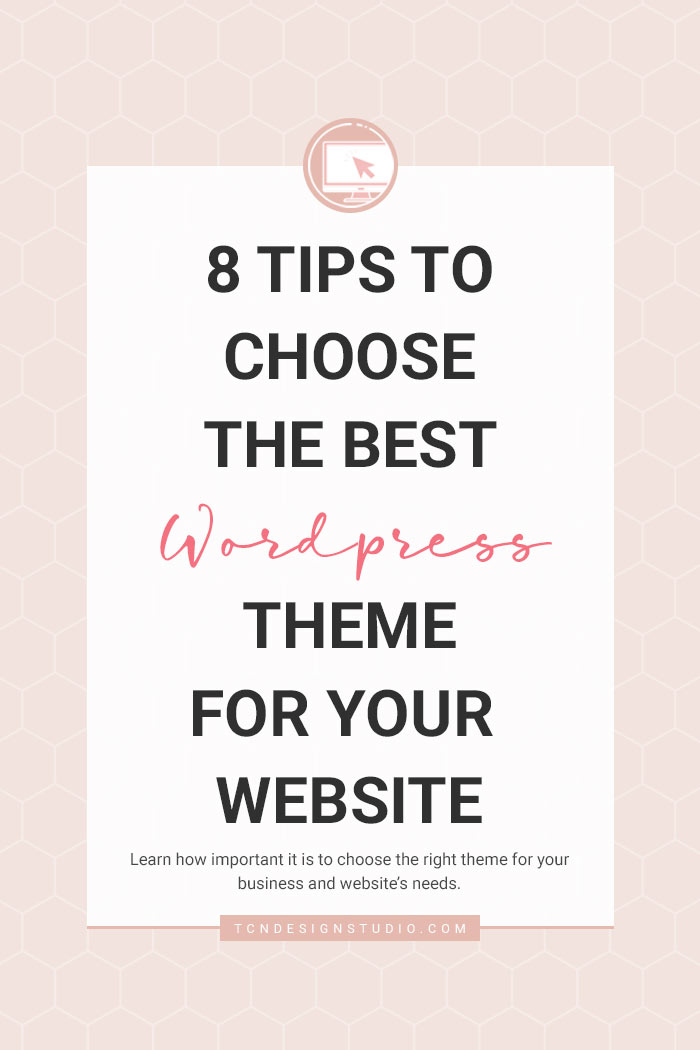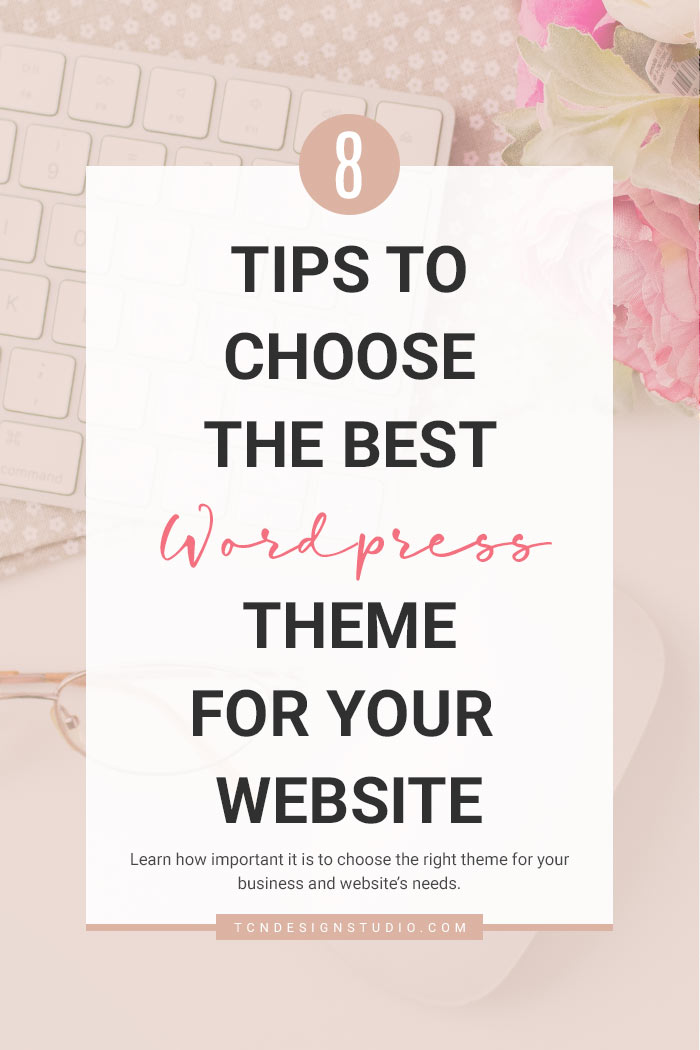 Liked this post? You might also love these too!