Blogging Planner: The Ultimate Tool for Productive Bloggers
The Organized Business blogging planner is the best tool to help bloggers stay organized and track all of their projects. Includes branding and ideal reader sheets, goal settings, blog content planner, growth tracker, calendar and so much more.
I have a question for you all. How many times have you said, thought or written this phrase: "I need more hours in my days"?
Oh dear! Have I said it!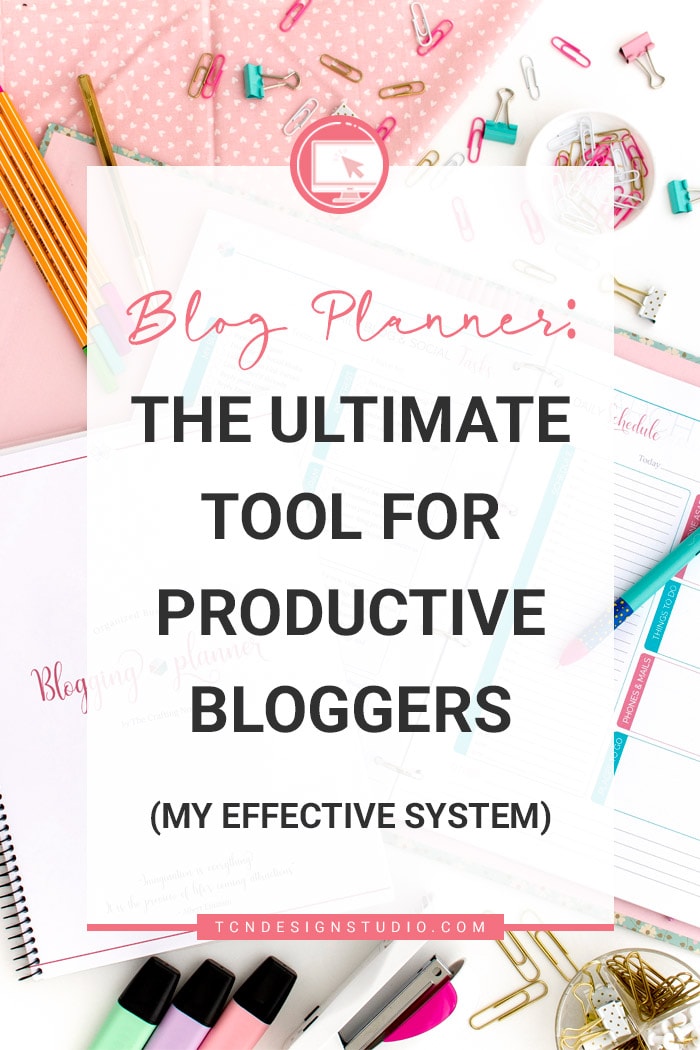 How to Be An Organized and Productive Blogger with a Blogging Planner (My Effective System)
Seriously!
How many of you haven't felt like your day went by on a whim and you didn't get things done?
Let's be honest, this particular matter goes beyond just bloggers but being a blogger makes it all so much harder to stay on track and organized. Being a blogger basically means you work from home and sadly it also means you have to keep up with work and home… and family… and kids… and… and… the list can go on and on and on.
But here's what I understood after 7 years of blogging over at The Crafting Nook (formerly TitiCrafty.com) and makings things differently each step of the way:
Organization is the key to productivity.
Yup!
Plain and simple equation: A good blog organization equals a Productive blogger… and mama too!
How did I come to understand that?
Well, basically because I've blogged in an organized way and I've also blogged as the wind blows.
You see, back when I started blogging and learned that I could make it a business and make money, I struggled to balance, home, 1 YO baby girl and then the blogging thing. I felt all over the place. I came across posts about blog planners and I felt like that could be a good idea.
So I started using a blog planner. I was deeply in love with sunshine's planner and I used it for over a year. I wrote a blog post about my blog planner back then if you want to see it! The only problem was that I had some aspects of blogging that I needed and she didn't have it.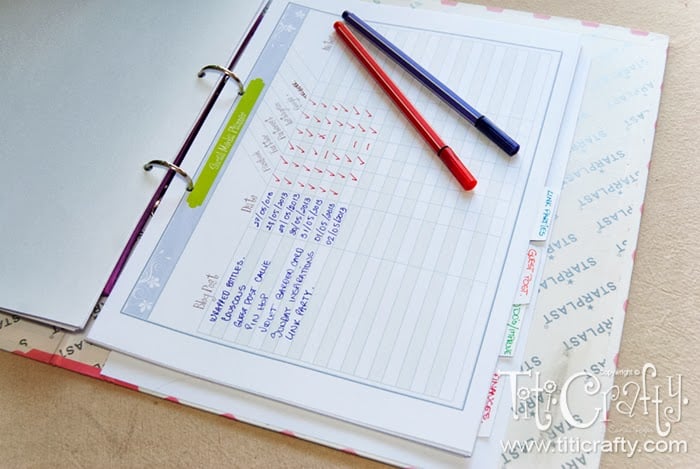 At some point, I end up having planner sheets from different sources and I didn't like that. Being a control freak as I am, I like things pretty, coordinated, neat and tidy which means I love everything under the same design. That's when I realized I needed to create my own planner.
The answer to the question above was really simple (and obvious to me), if I organize and plan everything ahead, I have more time for other things.
The best part?
I even got to plan my "me time" or social time LOL.
Yes, I was that freak.
But to be honest, I used to feel safe and self-confident that I had everything under control. It was so nice.
I've had always posted 3 times a week plus a link party post. So, 4 times per week and occasionally 5, if I had a sponsored post or something out of the ordinary. I remember crafting and baking, taking photos, writing my posts and it all seemed so easy. Staying organized was all I knew until everything changed.
So, "why did everything change?" you might ask.
In a couple of words: Life happened!
We had a financial crisis, things went really bad, Hubby got fired, no savings, no nothing so we had to move from place to place often. I went to my parent's house and hubby to his and I had a nomad life for a few years.
It got really hard to stay focused and organized so I kept blogging without a plan, just blogging as things came to mind. In addition, I also started doing blog design and that made blogging even harder. But of course, I needed the money so, the bet is where the money is, right?
When we finally could reunite and come back home, I became even more overwhelmed and unmotivated. The usual: way too many ideas, little resources, money and a lot more responsibilities than before. Needless to say I was not productive at all that year.
At this point you get the idea, right?
I blogged under 2 opposite situations and I finally understood what I had to do.
What's that?
I needed my organization freak side to kick in again.
I remembered that I had started my own Blog planner for a better and more complete blog organization a few years ago (ahem, 2014 to be precise).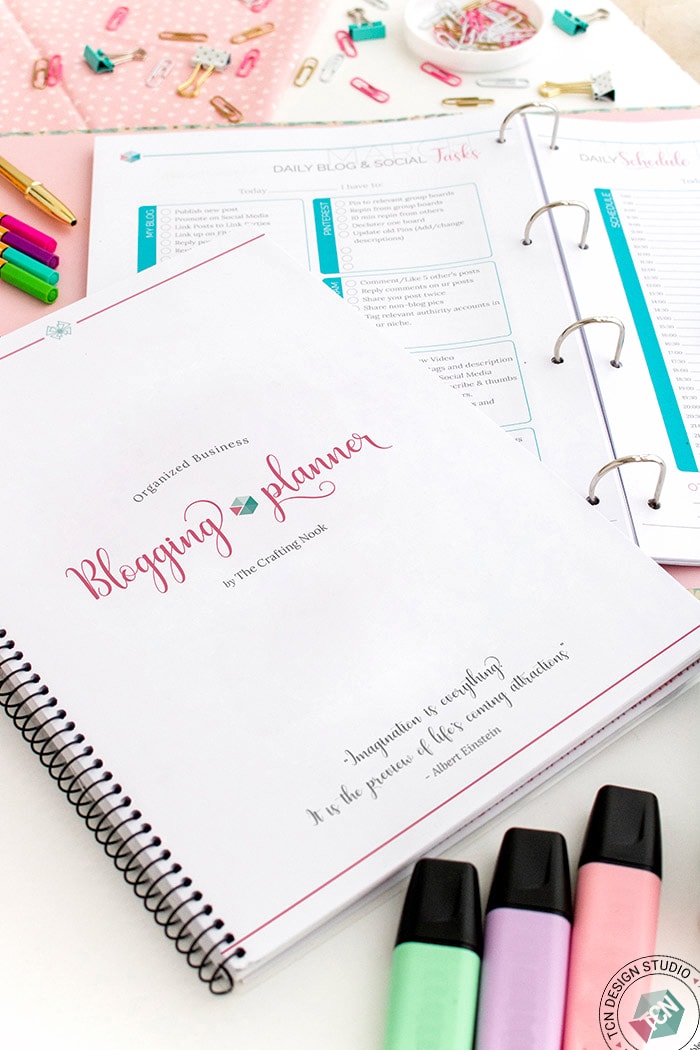 Confession alert: procrastination is an understatement for my blog planner delay. Anyway, I re-took the use of my planner, finished it and started using it again. This year already looks so much different than when I started it.
Ok ok, I must confess too that since I decided to sell my planner, life got so crazy again. Between deadlines, blog designs, home, and a huge lot of things I didn't know about launching a product (still not sure) made my days chaotic BUT, I must also say that I wouldn't be proud of accomplishing one my top goals for this year in my first couple of month if it weren't because I was using my planner.
So YES, blog organization pays off… Big time!
You can get my blog planner in full to get your blogging business organized right now!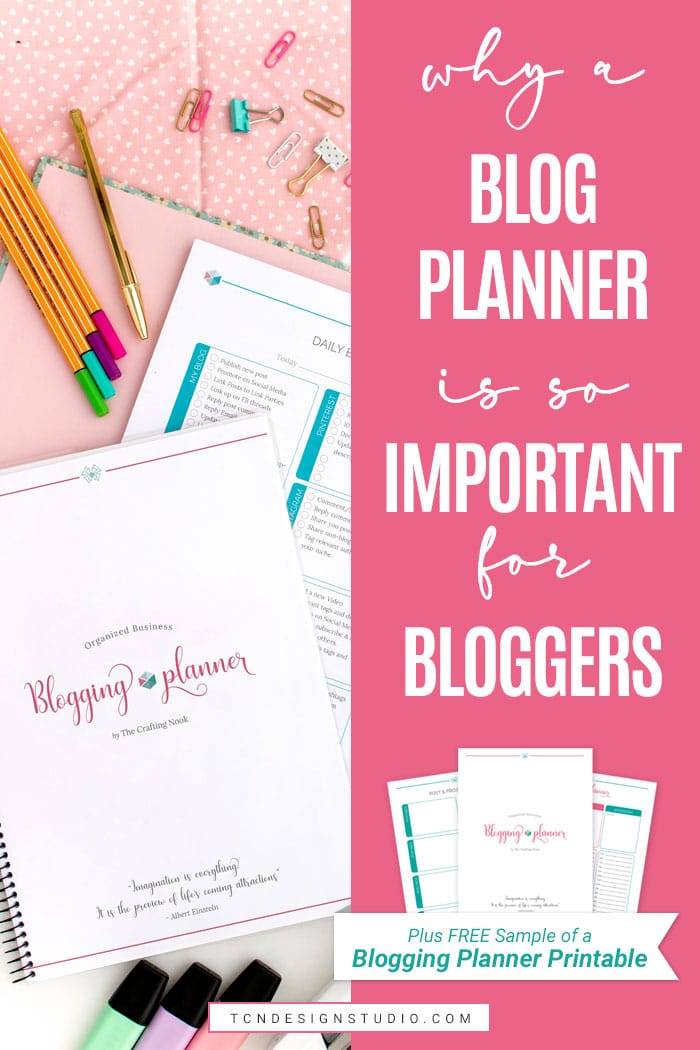 Then, How a Blogging Planner can help me to get an Organized Blog and be a Productive Blogger?
There are so many ways to get organized and be productive. Each person might find one way more helpful than the others. In my case, I like things physically written down. I like to think I can be ecological but in terms of blog organization, I'm pro paper all the way.
I love using printed planners. Having everything at the tip of my fingers right there is exciting, my planner is always by my side. I don't like to have to open apps on my pc or phone to check things and have to be switching apps all the time to check my planners. I already have to do that for all the other work I do.
So, my planner needs to be printed and right next to me on my desk, couch, bed, wherever I'm blogging from. Usually that would be my desk, but sometimes for writing, I like to be comfy and relaxed so I go to a different place for that.
A Blogging Planner
Using a blog planner is a great way to plan and keep track of every little detail of your business.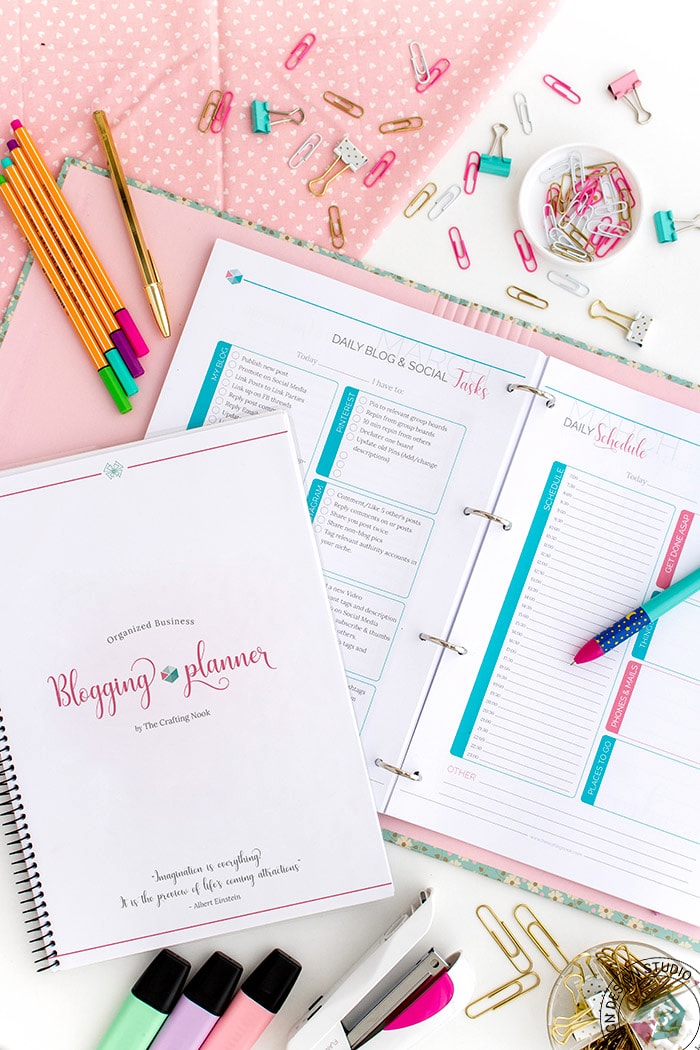 At first, it's intimidating. That whole bunch of sheets collecting information you might not even know what it is yet. But trust me, it gets easier en even ends up being a necessity. As you feel more comfortable, you will get things written there and accomplishing a lot more each day, week and month.
(If you want to use the blog planner I use, snag it here.)
So how does a Blog Planner really works
So if you are like me and like things written down, you need to print your planner, organize it as you like (I prefer by months) and start filling it out.
I like to start from the very beginning. What's my blog's brand and what's my ideal reader. Even if I didn't change the brand, my ideal reader might have changed from a year to the next.
Then my next most important step is setting my goals, allow myself to dream big and then get more real about which ones are achievable and what I need to do so.
Goal Settings
This year I decided to not only organize the basic blogging stuff but also setting goals and work my way to accomplish even more.
Setting goals is so intimidating. I didn't do it sooner because I was too afraid of not sticking to it and getting to the end of the year and facing I didn't accomplish my goals.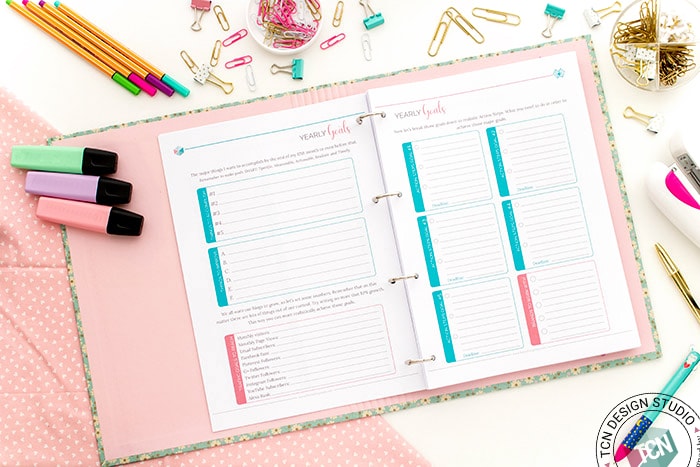 Setting goals makes things more real, and it gets scary. Thanks to Abby from Just a Girl and Her Blog I finally understood how to set achievable goals so I can actually work my way through the year and accomplish them.
So I added this feature to the blog planner and it's been a life-changer so far. After all, the planner is out, right?
Everything starts from there. Set your goals for the year and then work your way to specific action steps each month, each week, and finally each day.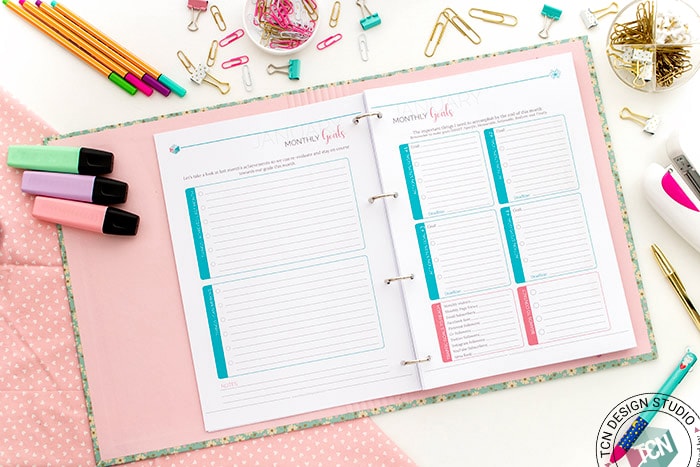 Even though my blog planner and it's focussed on that: Blogging for the most part, I also use it to add a few personal goals there that are important to achieve too, why not, right?.
Content creation: The Creative Thinking
As creative bloggers, we need a place to free our minds and come up with ideas. In my planner, I created pages to brainstorming and let my imagination fly. This is something I personally learned from Jennie Moraitis through her numerous articles about how to let the creativity flow.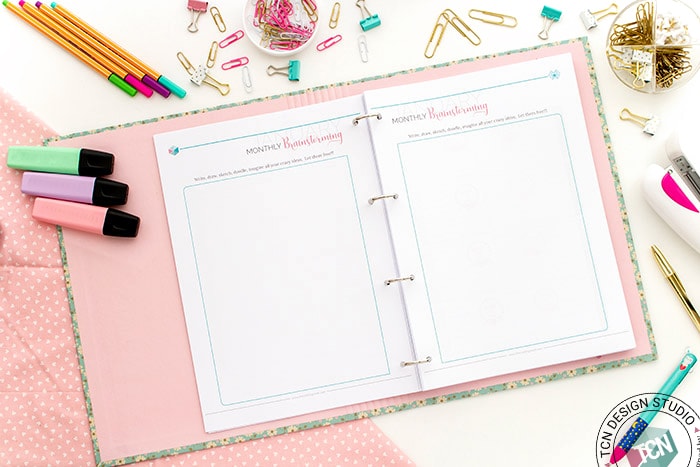 The next step is defining the projects or post ideas. Set a possible posting date, and make a list of supplies in case you need to go shopping. I especially LOVE these sheets. It also works of you even if you are not craft blogger, you can just list here whatever you need to create that content.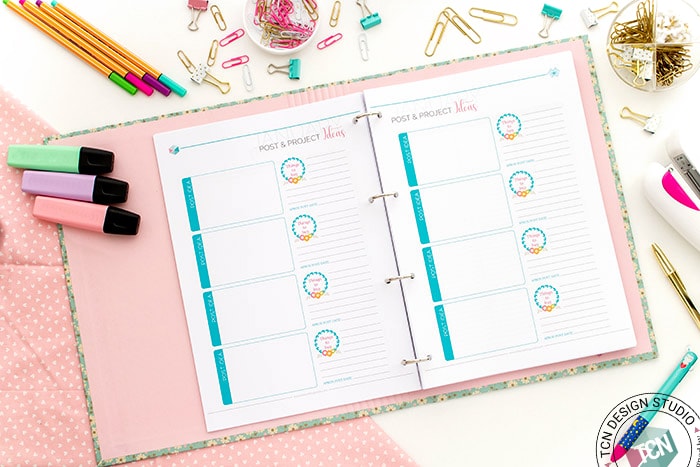 Set those posts on your calendar and finally set them on your weekly planner, so you know exactly when you are working on them and when you will publish them.
Because of the nature of my niche, I always keep in mind the seasons and holidays, especially those that we know are high-traffic-drivers. Plan ahead when you should be posting a specific type of post and put it on your calendar too. When you define what those posts will be you can update the calendar.
Business Growth
One thing that I find very helpful, is keeping a track of my blog and social growth. This helps to know which months are great and which not so much, and work towards improving strategies for those months.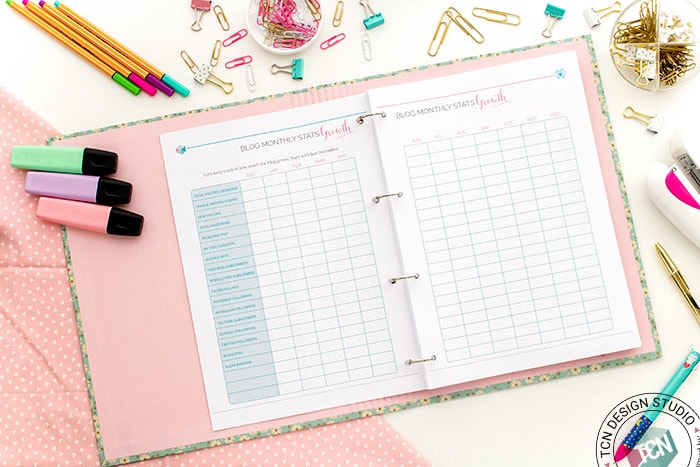 Also, it is so good to see numbers grow (without obsessing over them), it's in our nature. It motivates us and excites us to keep up as we see this number go up.
Undated Calendars
At times, we know for sure what type of post we need in advance, or we have special appointments or simply things to do that need to be done on a specific date. For that, I use my calendar: for important dates.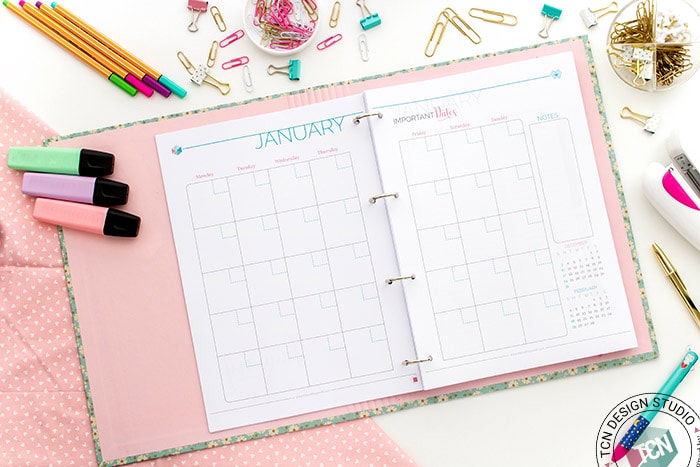 I didn't date it so the planner can be used any year even though this planner is for 2020. I usually use a backup plan here. Just in case, when something is really extra important, I'll set an alarm on my google calendar too just make sure. We never know when life happens and you forget, or are not able to check the planner in time.
Weekly Planner
My weekly planner is such a huge help, I can list things I have to do throughout the week and have a general overview of how my week looks like. When things require a specific time I will block it down there in the timing area.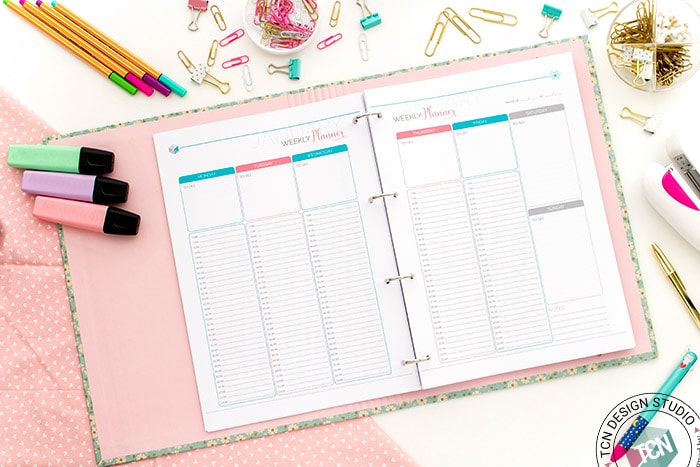 With time and years using my planner, I ended up creating more minimalist weekly planner pages. I realized that when it comes to very important things that I can't forget, I rely more on my phone alarm or google calendar.
Since each person is different and I know some people like time-blocking and some are like me like a simpler weekly overview, I kept the time-blocking weekly planners and the minimalist version on my Blogging Planners on the shop. You can choose which one fits your needs.
Daily To-do and Schedule.
This is my personal favorite. As bloggers and human beings we have daily tasks. Some are mechanical and regular, like your blog posting and social interaction and then those that change day-to-day.
Since I don't want to make the planner larger than it already is, I only print these 2 sheets once each month. I inserted 2 sleeves or acetate sheets and just check and write things with a sharpie or a whiteboard marker.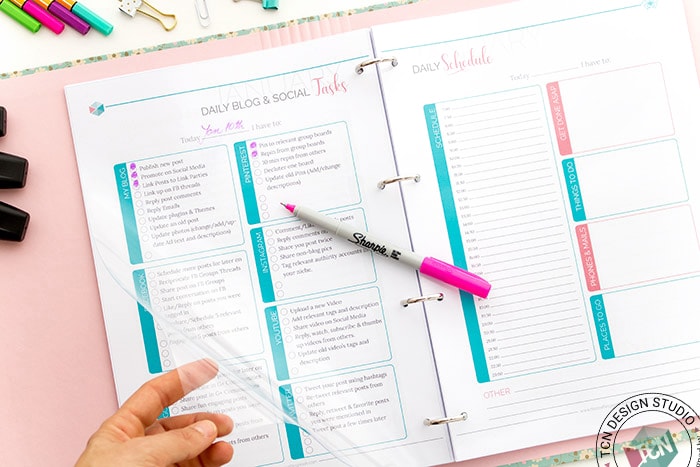 As a side note, both ways are tried and true. Using a sharpie, you just need to use alcohol and a cloth or cotton (this is what I do). Using whiteboard markers, anything can erase it, even the fingers but of course, your finger will get a little dirty LOL. I would prefer a piece of cloth or toilet paper.
Tracking your blog posts
This is a HUGE help. Every time you write a new blog post, or know you are going to post one, you can just write it down, set the date and then just check the boxes for each social platform you shared it on. When a specific platform requires more than one share I would divide the cell into smaller cells and just check them as I shared.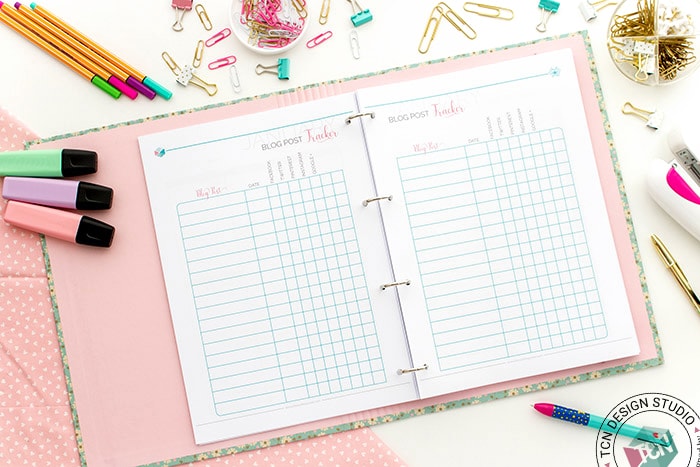 I also like to keep track of my sponsored posts, reviews and giveaways. Not that I do them often but it helps. Especially because from time to time you can even go back and check which ones were more successful and pitch a new idea to some of those companies or vendors. You also don't want to miss out the important dates for those posts, right?
Do you advertise your posts? Or have affiliates?
Then these two sheets are as useful to you as they are for me.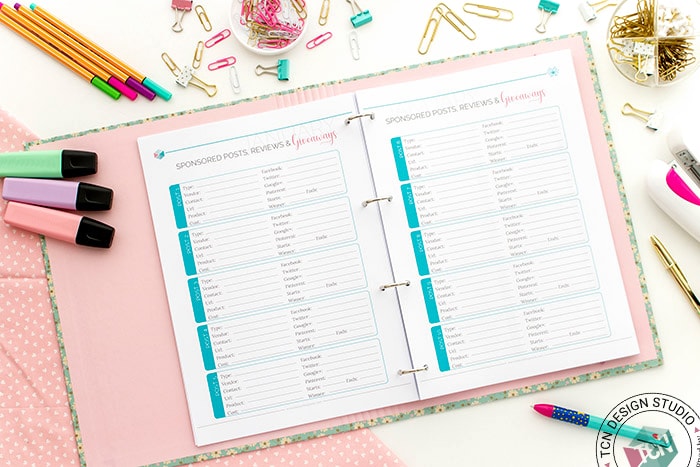 I like to know where I published an Ad, how long, and how it performed so I can improve. Not like each platform wouldn't give you that info but, this way you have all different platform data in one place to compare.
It's also important to keep track of your affiliate programs. Right? Don't you get confused by all the programs you might be juggling? This sheet helps with that.
What about old posts?
I use the Update Old Post sheet to keep track of old blog posts that need updating. Maybe new photos or a complete makeover. If you have been blogging for a while you might know that first posts always need some love, or times and trends change and those posts need to be updated. Either way, you get to keep track of which and when you have done it and where you promoted them.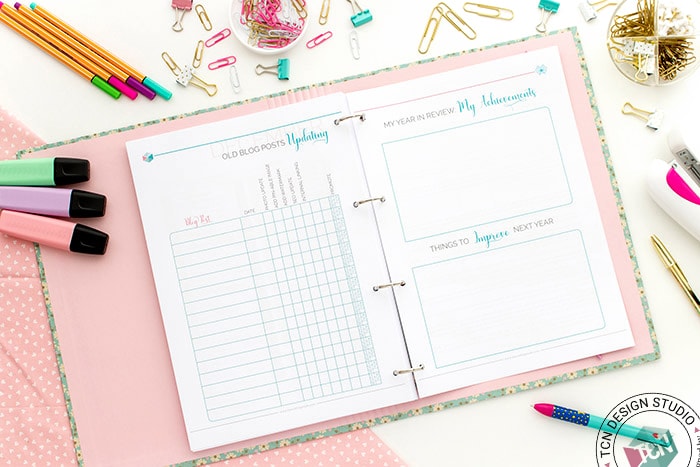 If you like guest posting or having guests over your blog, you can keep track of that too. When, what, where and who.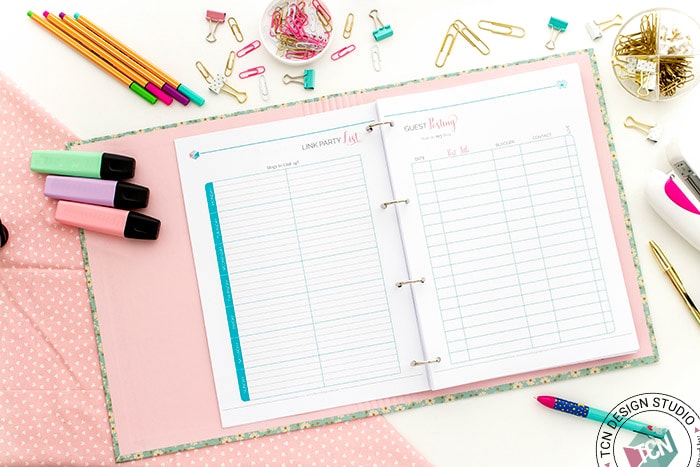 I don't do Link party anymore but this sheet used to be my lifesaver. You can keep track of what Link Parties you have each day of the week. I added it to the planner so you can also keep track of yours if link parties are still your thing.
Important contacts are also super important to keep close. I made a few sheets for that. Sometimes it happens to me that I knew I had to contact someone from last year or months ago, and couldn't remember the name or the email, so looking for it got hard. These sheets help you keep those very important contacts really close and handy.
Then how about finances?
This is so important. Keeping a track of how much you earn from each source and how much you have to spend (especially WHEN). I usually write in pencil on these sheets since things can change. I can just erase and re-write the new amount.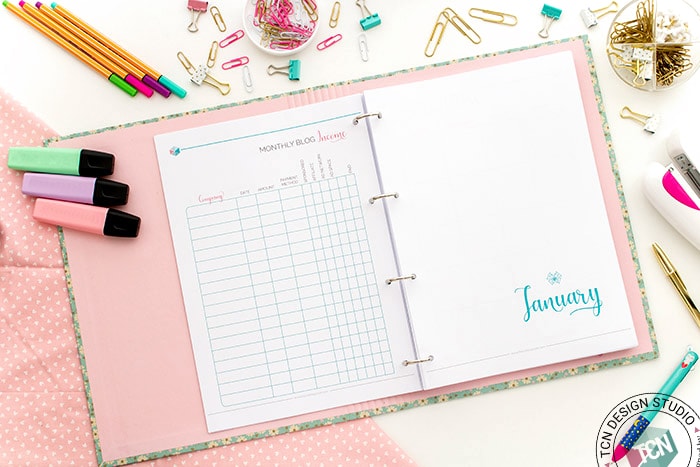 I'm not a fan of writing passwords down, but during my research, I saw many people asking for it, and another bunch creating sheets for that. I personally use an encrypted text pad to write them down and as a backup, I have Google and Kaspersky password manager.
If, by any chance, I lose my planner all that sensitive info is there for anyone to use. I get goosebumps just thinking of it. But you will find it here if you like to use it or just don't print it.
My Latest addition to the Blogging Planner: Social Media Planner Sheets.
As Social media grows and gets harder, we need more planning and organization. I didn't cover all social media channels but I did create sheets for those are mostly used: Instagram, Videos and Emails.
This has made a huge difference because planning these media requires different approaches and different thinking so I created a brainstorming sheet and an actual planning sheet for each.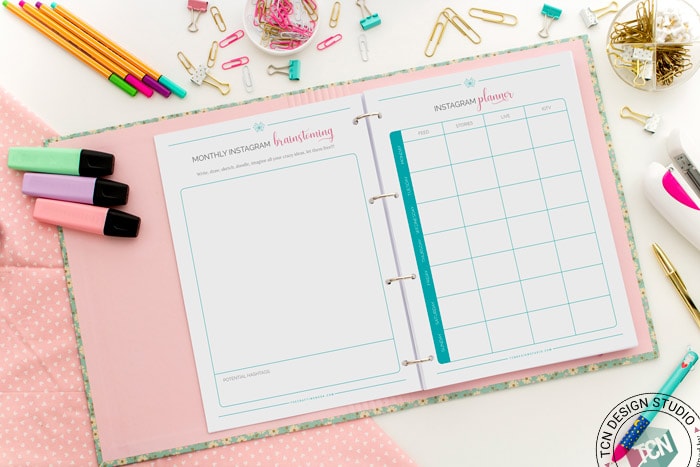 You will be amazed at how easy it gets once you have laid out your ideas and set a plan of action ahead of time.
I so love these sheets!
A year in Review.
At the end of the year, I like to review the whole year. I Make a list of all my achievements so I can move on to new goals next year and also make a list of things I did but need improvements. The best way to start a new year is knowing where to move forward to.
What I love the most about this system is that it turns that huge blog task list, intimidating goals and unproductive days into smaller different tasks and steps. One week and day at a time.
Each day I take actions that I planned, I get closer and closer to my ultimate goals. When you make a plan ahead and divide it into simple, manageable tasks, you will achieve them before you know it. Every one of those little things adds up and becomes your big successes.
Do you like this idea? Snag your Organized Business Blogging Planner Now!
Bottom line…
It all comes back to getting things organized, having a plan ahead of time and working towards your goals.
That's it.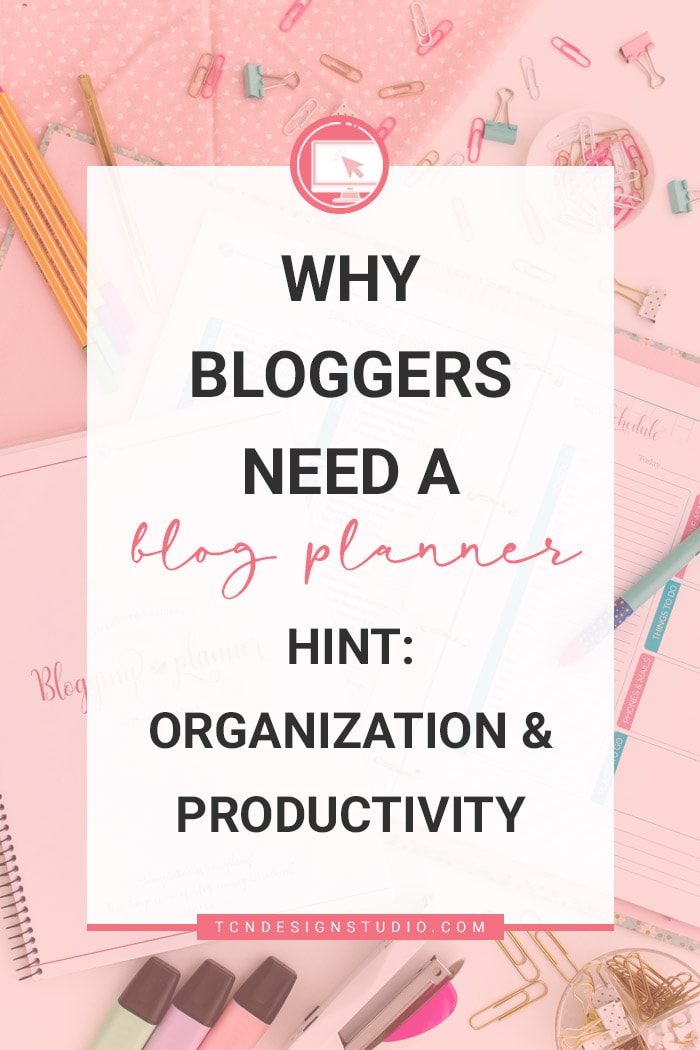 And, even though not all of my plans work as expected, I can always rethink things and push those tasks in a different way or change the strategy so I can achieve the ultimate goal.
Whenever I succeed and achieve one goal or overcome each action step towards the goal, I get more and more excited and motivated.
That's what organization is all about. As you get more done, you are more productive and feel successful every day.
How about you?
How do you manage to feel productive?, What's your system? If you have a completely different way to stay focused and organized I would love to hear them in comments.